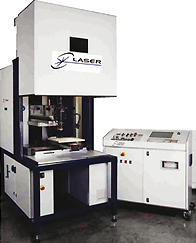 Engraving on Tungsten Carbide Rings

Due to the hardness of tungsten carbide, it is not recommended to use traditional method of etching to engrave messages on them. Etching on tungsten carbide is usually not clear and jagged. Also, it might damage the structure of the alloy and chip the ring.

WARNING: DO NOT USE ANY ENGRAVING BESIDES LASER


The right way of engraving tungsten: LASER
The only way to ensure precision, clarity and smoothness of the engraved text on tungsten carbide is computerized laser engraving. We use state-of-the-art laser equipment to put custom message on your jewelry. The engraved text is crisp, clean and permanent. There will not be any damage done to the jewelry because no physical force is applied to it. A powerful laser beam controlled by computer equipment is used to cut into the surface of the tungsten ring in to add a personal touch to your jewelry.
Engraving Comparison
Some stores that do not have the proper equipment can only use traditional etching method to engrave. Therefore, you should be aware of the type of engraving that the jeweler is using to engrave on your jewelry. Some jewelers even offer free engraving service on tungsten rings by using etching method. However, an engraved jewelry is not exchangeable nor refundable even if you don't like the way the engraving looks. Therefore, it is crucial to understand the difference between engraving using laser and etching. The following two pictures illustrate the difference between the two engraving methods.
Black tungsten ring with laser engraving
Tungsten ring with free engraving service by etching
(not offered by us)
Our laser engraving policy for tungsten rings
Service charge: $40
Maximum 30 characters, including spaces
Engraved items cannot be exchanged or refunded
The ring has to be tried on to ensure correct sizing before being sent back for engraving
A service agreement has to be signed and sent back along with the ring
It might take 1-2 weeks for you to receive the engraved ring after we receive it back from you. This includes the processing time in our custom work department and mailing it back to you.
How to get laser engraving for your ring?
Add the ring to your shopping cart with the desired size
Then you will see laser engraving option at the top of the shopping cart page
Click on "Purchase Laser Engraving Service" button
Enter the engraving text in the text area, choose font type and position
Click "Add To Cart" button to purchase the service
If you engravings on both inside and outside, you will have to purchase this service twice
What if I already have a ring?
Click here for engraving instruction if you already have a ring in your possession.
Can you engrave in non-English languages such as Hebrew?
Yes, we can engrave in any language with our laser engraving system including Spanish, Hebrew, Greek, Arabic, Japanese and Chinese. There is no extra charge or extra step to engrave non-English languages, simply enter the text you would like to engrave to the text box on the laser engraving service page. Please make sure that the text is correct during checkout process, especially with languages reading from right to left because copying and pasting these languages might cause reversal of ordering of characters. Please also note that most non-English languages could not be previewed using the online tool or on the service agreement.



Can I preview how the final engraving will look like?
Click here to see instant preview of your engraved message. (for English text only)



Can you engrave symbols?
Yes, we can engrave common symbols such as heart, infinity and cross. To type these symbols, enter the following numbers while holding the "Alt" key down on the keyboard

Heart: 3
Infinity: 236
Cross: 0134
Can you engrave fingerprint?
Yes. Each Fingerprint engraving costs $80. Please purchase the service at the following page http://www.titaniumkay.com/Fingerprint-Laser-Engraving-Service-P104477.html. After the order is placed, you will be assigned an order confirmation number, send the image file to support@titaniumkay.com as an attachment with subject line "Image file for laser engraving order XXXXXXXXX" and fill in your order confirmation number. Please provide image files in jpeg format and provide an image of resolution as high as possible.