For fingerprint engraving service purchased with rings, the item will NOT be engraved in the first shipment. The first shipment will contain the unengraved item, a return label and a service agreement. After you receive the first shipment, try the ring on to confirm the size and then send the item back with the included return label (US customers only).
To obtain a fingerprint, you may buy an ink stamp and do fingerprinting yourself at home on a white paper. Please submit a scan of your fingerprint in JPG format similar to the sample below.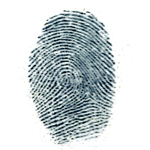 Please make at least several prints and choose the best one that has the clearest with most continuous fingerprint lines.
After the order is placed, you will be assigned an order confirmation number, send the image file to support@titaniumkay.com as an attachment with subject line "Image file for laser engraving order XXXXXXXXX" and fill in your order confirmation number.
The fingerprint image will be processed to create a cropped version of the original to fit on the jewelry.

We will use a laser machine to engrave the cropped fingerprint image to your jewelry.