Tungsten carbide wedding band ring sizing tips
Shopping for your wedding rings online is an exciting experience, but in addition to choosing your setting it's important to provide accurate size information to avoid returning the ring. In a jewelry store, you can try the rings on until you find the one that fits best. What should you consider when ordering a tungsten carbide wedding ring from an online store?
Sizing Scale
First of all, even though you will see different ring size charts for women and men, there is only one ring size scale, a jewelry sizing rod (mandrel) for both men and women. So how is it possible for the same ring be measured differently at two jewelry stores?
This can happen for several reasons: some sizing rods are made inaccurately or have become inaccurate from years of use. In addition, the way the measurement is taken from the sizing rod is important. Some jewelers read the measurements at the upper edge of the ring while other reads the measurement from the middle of the rings.
The most accurate way to measure ring size is from where the lower edge of the ring comes to rest with the sizing rod pointing upward. That's why you might be told different about the same ring if you visit many different jewelers.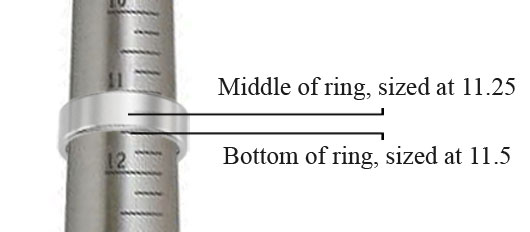 Half-Sizes
One of the primary differences between tungsten rings and traditional gold wedding band rings is the hardness. Since they are much harder than gold, platinum or silver, they are virtually scratch proof. However, for the same reason, they cannot be resized easily.
Because these rings cannot be resized a jeweler would have to make a prohibitively high investment to carry a full inventory of half and full sizes. So if you purchase a ring from a store that does not offer half sizes, and after you receive the ring you find out that you need a half size smaller, you will not be able get it from the same jeweler.
Comfort-Fit Designs
Most tungsten rings on the market nowadays are made in comfort-fit design where the inside of the ring is curved. The interior of the ring that is actually touching the finger is less. Therefore, for the same ring size, a comfort fit ring might feel larger than a non-comfort fit gold band ring.
Some people have a hard time get the correct ring size because they use a gold wedding band ring that they currently own for measuring. If the ring is made in non-comfort-fit design, or straight fit design, a tungsten carbide ring in the same size will be too large. A rule of thumb when using this method is to order your new comfort-fit ring a half size smaller if your current gold band ring is not a comfort fit ring.
The Weight
Due the high density of tungsten itself, these rings are very heavy compared to gold and platinum. The difference is even larger when comparing tungsten with titanium. The weight of these rings makes the wearers feel that they are likely to slide off when their hand is pointing downward, so for the same ring size, you might feel that a tungsten ring is looser than a titanium ring because of the weight.
Ring Width
Remember that a ring size alone does not determine how a ring fits. Many styles have widths of 9 millimeters or even 12 millimeters. If you wear size 10 3mm wedding band and it feels snug, you probably need a size 10.5 for a ring of 11 millimeter width.
Timing of measuring fingers
You may not have noticed that your finger size changes constantly. Most people go to a jeweler to have their finger sized, although this is the most logically way of measuring, it only takes a snapshot of your ever changing finger size at that particular moment. Most people have a larger finger size in the morning than night time due to water retention in the body during sleep. Seasonal change in temperature will also change your finger sizing, e.g. the finger sizing is larger in general when body temperature is higher. Similarly, your finger may swell a little bit after exercises. You may have a hard time taking off a ring that fits well normally after exercising.
Related Topics:
Check out our men's tungsten rings here >>