Tungsten Carbide Ceramic Two Tone Men's Bracelet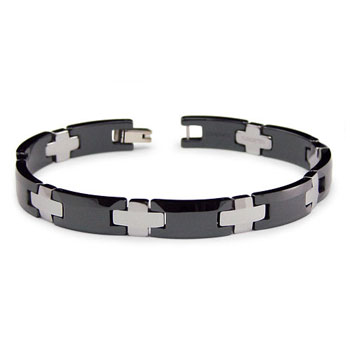 For a very unique look in men's bracelets we offer for sale this distinguished designed two tone men's bracelet. The tungsten carbide ceramic two tone men's bracelet is a very eye catching bracelet. Crafted from high polish and satin finish 9 millimeter wide tungsten carbide ceramic, which gives the bracelets its two tone effect. The links of the bracelet appear to be opposite colors, due to the ceramic and polishes used on the metal, to create the appearance of two different colored metals.
Our tungsten carbide ceramic two tone men's bracelet is made to last a lifetime and what most men desire is high quality jewelry at a great price and that will last them no matter what type of work or recreation they do. Having bracelets break due to getting caught on something like a shirt button, makes it difficult to rationalize wearing something valuable or emotionally attached. At TitaniumKay.com all of our jewelry is created to stand up to the hardest jobs and play imaginable. Feel free to shop our entire line of long lasting economically priced jewelry!