Men do not wear a great deal of jewelry, so the pieces they do wear have to stand out and say something about the man. The jewelry a man wears typically is muted and reserved, yet strong and bold. There are many different metals that can be used to make a chains however some are better suited for a man to wear then others.
The days of men wearing large gold chains made into dogs, cars, trucks, and 1,000s of other objects men loved such as footballs, basketballs, baseballs. With the rising costs of platinum, silver, and gold, it would likely cost as much as a car for just one chains made of gold and weighing 10 ounces or more. An issue with these metals as jewelry is they are easily broken, during work, or play. How many of us have had a nice gold rope chain broken by a child playing?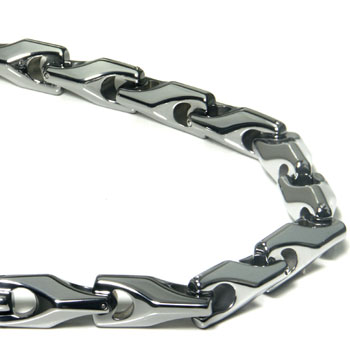 The new chains for men are made of titanium and tungsten, they are scratch resistant and nearly impossible to break. These men's chains also look durable and strong. They make the perfect gift for men everywhere, and the best part is they are not anywhere as expensive as their counterparts typically made of gold.